Quest Arma D13 Legend Silkroad Latino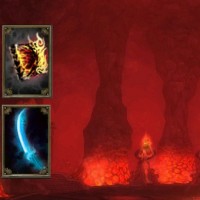 ¡Las legendarias te esperan!
En Silkroad Latino contamos con el maravilloso sistema de armas legendarias, las cuales podrás disfrutar desde Lv. 116, únete a esta maravillosa experiencia coleccionando los talismanes para crear tu arma legendaria DG 13, con un diseño único y un asombroso resplandor, con el cual impactarás y deslumbrarás, podrás disfrutar de esta travesía como coleccionista de talismanes a partir de Lv. 111, momento desde el cual podrás ingresar al nuevo mapa a la busca de tan importantes objetos para mejorar y divertirte.
 Arma D13 Legend
Deben ir a Hotan al NPC

Merchant Associate Asaman

Ubicado en Hotan Trader Shop
Merchant Associate Asaman
2. Dar clic al NPC y seleccionar la opcion Talk to This Person.
3. Seleccionar The Flame Hole Collection
4. Aceptada dicha quest necesitaran conseguir 8 talismanes 

, llamados:
5. Estos Talismanes se encuentran en la Forgotten World, como van a la Forgotten World o bien conocida como FGW en nuestro servidor deben de ir a Teleport Zone mediante el teleport ubicado en cada ciudad, estando allí nos dirijimos al NPC Shop Assistant ubicado en dicha zona
6. Abrimos dicho NPC y nos dirigimos a la pestaña Forgotten, donde veran varios Dimension Hole (Portales) de color azul como se muestra a continuaciòn:
7. Compramos el talisman llamado Dimension Hole (Flame Mountain 3 Stars), este es el unico que funciona para la obtenciòn de los talismanes necesario para sacar tu arma Legend D13.
8. Comprado dicho item proceden a darle clic derecho al mismo y les aparecera un cartel como el siguiente al cual debe presionar el boton Yes.
9. Seguidamente les aparecera en frente un portal para ir a la Forgotten World como el siguiente:
10. Procederan a darle clic como si fuera un teleport normal les aparecera una ventana a la cual deben seleccionar  Teleport to [Flame Mountain] area.
11. Seguidamente sera teleransportados a la dimension Flame Mountain, estando allì procederan a seguir el camino e ir eliminando todos los mobs que aparescan para ir abriendo las secciones mas adelante, recuerden que deben de eliminar todos los mounstros para que aparesca el mounstro llamado envy el cual deben eliminar para abrir la siguiente zona, en el camino se encontraran la siguiente caja llamada Treasure Box que tiene la siguiente forma:
12. Dicha Treasure box deben de romperla atacandola este cofre puede soltarle entre 2 y 4 talismanes aleatoriamente, como puede tambien no soltarles absolutamente nada, es cuestion de suerte.
13. En dicha Forgotten World encontraran  uniques, al final de la Forgotten World encontraran el boss final llamado Griffing el cual les puede dar un drop de talismanes a como puede que no de nada.
14. Para conseguir los talismanes tendran que ir a dicha dimension varias veces hasta obtener todos los talismanes mencionados anteriormente solo necesitan uno de cada uno, obtenidos todos procederan a activarlos de la siguiente manera:
Clic derecho sobre el talisman y les aparecera una ventana como la siguiente a la cual deben de presionar confirm
Asi sucesivamente con todos los talismanes hasta completar los 8 talismanes como se muestra a continuaciòn:
15. Completada la colecciòn iremos con el NPC Merchant Associate Asaman con la que fuimos para pedir la quest The Flame Hole Collection y entregamos la quest seguidamente se nos mostrara la siguiente ventana:
NOTA: las armas varian si eres chinese apareceran solo armas Chineses si eres europeo solo apareceran armas europeas.
Seguidamente seleccionaremos el arma o escudo deseado y aparecera con un brillo como el siguiente:
Presionaran el boton Reward y les aparecera la siguiente ventana para confirmar si es el arma o shield que eligieron
16. Presiona el boton Confirm y listo ya tendras tu arma o shield D13 Legend.
Creditos: Guia echa por Celestial Para Silkroad Latino Blog y Silkroad Latino servers